Historic wooded landscapes in Waltham
Paine Estate
The grounds of the Paine Estate were designed by Frederick Law Olmstead. The extensive plantings of rhododendron and azaleas among the trees, stunning large specimen trees of white pine, copper beech and hemlock, and trail-side surprises of violas and lillies-of-the-valley make this estate a charming public park. The numerous trails are handicapped-accessible and well maintained.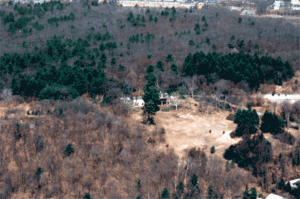 Waltham Woods - Cedar Hill
Part of Cornelia Warren's estate, the Waltham Woods were bequeathed to Harvard University with a reversion clause in the deed to the City of Waltham for parkland. Once a cattle pasture, this summit of Cedar Hill has grown in with pine, cedar and oak trees, and blueberry bushes. The summit features a nineteenth century rest area for viewing the scenery. The public park can be accessed through the Cedar Hill Girl Scout Reservation, and acts as a buffer between Bentley College and the campgrounds.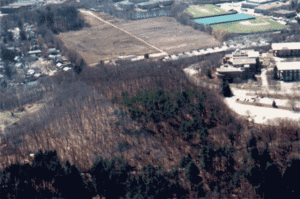 Beaver Brook North Reservation (former Metropolitan State Hospital)
The grounds of this former mental hospital vary with cattail marshes, red maple swamps, new forest, mature oak-hickory forest, and highland meadows. Most of the mature woods date back 100 years, with some specimens over 150 years old. Old carriage trails wind through the woods, making excellent hiking paths. Most of the land was once part of the Bridge-Sanderson-Broderick estate and the Phinehas Lawrence estate. The land was taken by eminent domain between 1915 and 1930 for the erection of the Met State Hospital. The hospital was closed and declared surplus, and in the disposition process, 240 acres of the woods and wetlands have been turned into DCR reservation. Access from Waltham is currently from Elsie Turner Park on Trapelo Road.