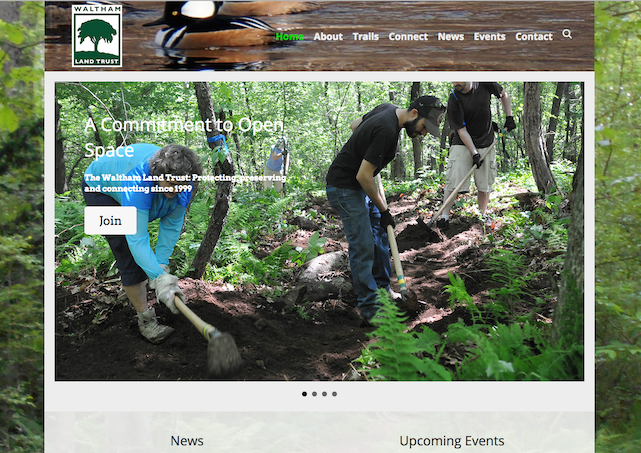 New Website for Waltham Land Trust
On April 10th, 2017, the Waltham Land Trust went live with their new website. The Technology Committee put in a 3 month effort to create a new responsive website that is easy to use and to find things. Check it out on your smart phone or tablet to see how well it works.
After an extensive survey of what the directors, the executive director, and committees would like to see in a new website and an online Constituent Relationship Management (CRM) system, followed by a search for a vendor that could match the requirements, the decision was made to go ahead at the end of December, 2016. The vendor chosen provides the CRM integrated into the website. So now, all the donation, events and membership forms look the same as the rest of the site as well as saving lots of time for our executive director as all the donations, event tickets and membership information goes directly into the CRM.
The website is powered by the very popular WordPress open source Content Management System (CMS). The WordPress community has many plugins that allow you to do all sorts of thing with your website content. A new exciting feature is the searchable Open Space Inventory table which uses such a plugin. All the open space parcels in Waltham that are over 4 acres were evaluated by the Land Committee and given ratings. This table is in the process of being updated so watch for changes.
Please let us know what you think and if you have any suggestions we'd like to hear them too. Of course after you get outside for your morning, afternoon or evening constitutional.