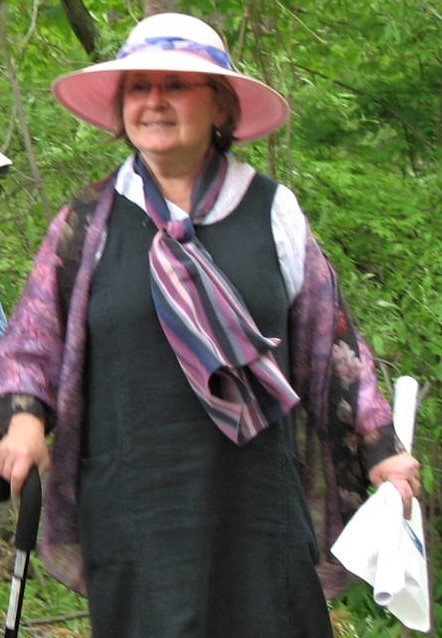 Remembering Board Member Lesya Struz (1949 – 2017)
WLT Board Member Lesya Struz died peacefully in her home on November 21, 2017. Please click here for her official obituary and details regarding Lesya's burial on Friday, December 8, 2017 and memorial service on Saturday, December 30, 2017.
When Lesya joined the Waltham Land Trust Board in October of 2003, the rest of the Board didn't know what to expect. Her husband, Joris Naiman, was a founding member of the organization and this was the first time we'd have a husband and wife on the Board. Joris brought tremendous knowledge to the Land Trust, but we quickly discovered that Lesya had abilities that were just as unique. Whether it was her organizing talent from her work as a founder of the Oregon Chapter of the Pacific Crest Trail Association, or her personal study of trails and plants, Lesya brought an irreplaceable combination of passion and skills to the Waltham Land Trust Board.
Lesya's passion for nature and Waltham's history was contagious. Her most entertaining activity was her portrayal of Cornelia Warren, a long-dead entrepreneur, farmer and philanthropist in Waltham. Lesya would dress as Cornelia in 1900's era garb and give talks on this fascinating woman and her family. She would also play Cornelia while leading wildflower walks on Cedar Hill, a beautiful Girl Scout camp and one of Waltham's largest woodland open spaces which was Cornelia's home before she donated it in her will. As part of the walks, Lesya would point out the exotic specimen trees at Cedar Hill, and the many Lady Slippers and other wildflowers on the site. Lesya's creativity was matched only by her practicality; she would have us pulling the garlic mustard as we walked.
In one of her last talks at a Waltham Land Trust Annual Meeting, Lesya explained the relationships between Cornelia Warren's family and Louis Brandeis, two Waltham icons.
Lesya was also a tremendous resource to the Land Trust's Program and Land Committees. She always suggested activities no one else would think of and she always knew wonderful speakers and other resources for our public meetings. Ever concerned with the safety of the Land Trust members, Lesya gave several talks on how to dress properly to be in the woods in order to avoid pitfalls like ticks and poison ivy. She must have brought in a mountain of clothes for all seasons and sizes, and could have dressed the entire audience. Lesya also inspired WLT to buy what a fellow board member described as "the biggest first aid kit on Earth."
Her knowledge of the environment was extensive and she used it to serve both the Land Trust members, as well as the entire City, serving as a commissioner on the Waltham Conservation Commission from 2005 to 2014.
Lesya's final projects were assuring that Joris's contributions to the Land Trust, the City of Waltham, and other organizations, were acknowledged in perpetuity. While Lesya focused on Joris's commitment to conservation, her own contributions to the Land Trust and environmental causes were equally important.
We will miss her knowledge, her laugh, and her joy in joining us in the outdoors.