In Memory of Board Member David Kehs (1950 – 2019)
Update 9/17/19: Dave's family will have a memorial for him on Sunday, September 29th, from 12-4 PM in the Green Room at the Chateau Restaurant, 195 School Street, Waltham. Please join us for sharing memories about Dave with hors d'oeuvres at noon, followed by a buffet. If you plan to attend, please RSVP to Sonja. Also, let her know if you'd like to say a few words about Dave and his activities so we can be sure to call on you.
Update 8/6/19: Dave's family has indicated visitation will be held at the Sterling Ashton Schwab Witzke Funeral Home in Catonsville, MD on August 9th and services followed by the burial will be August 10th. For more details visit: https://dignitymemorial.com/obituaries/catonsville-md/david-kehs-8792804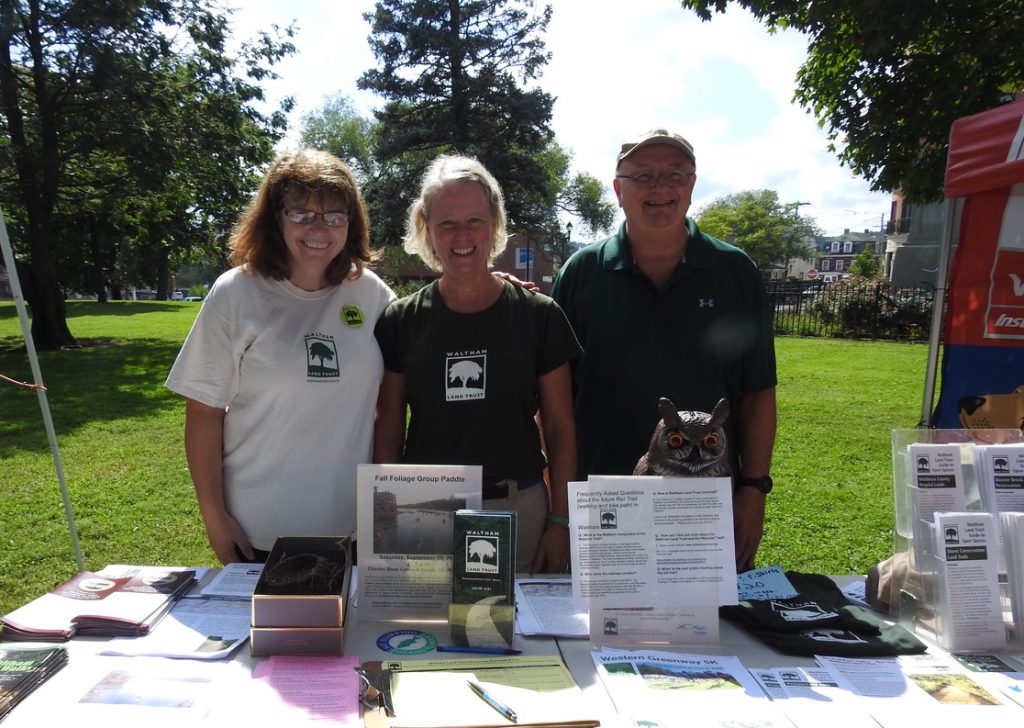 It is with deep and profound sadness that we write to inform you of the death of longtime Waltham Land Trust board member David Kehs. Ever the adventurer, Dave was on a whitewater rafting trip in Utah when he died in a tragic accident on July 21, 2019. Words cannot express our heartbreak and grief at losing him so suddenly and unexpectedly.
Dave has been a pillar of the Waltham Land Trust and the broader Waltham Community. As a concerned citizen and environmental activist, Dave successfully led the charge to have the improperly installed private commercial communications tower removed from Prospect Hill Park so the land could be restored for all of the public to enjoy. As a mainstay on the WLT Land Committee, Dave was a constant presence at public meetings and events, advocating for land preservation and conservation. As a Land Trust board member since 2001 - a tenure second only to that of the Land Trust's founding members still serving - he gave generously and tirelessly of his time, talent, treasure, and heart to advance the Land Trust's mission.
Dave's encyclopedic knowledge of Waltham's natural open space resources led him to become the Land Trust's unofficial cartographer - if you've ever consulted a Waltham Land Trust map on a walk through Prospect Hill Park, the Beaver Brook Reservation, the Chesterbrook Woods, or any of Waltham's other open spaces, Dave was (and still will be) by your side guiding you on your way.
When he wasn't busy attending meetings, researching properties at the Land Court, or serving as the Land Trust's Clerk, Dave enjoyed travel, hiking, kayaking, and cycling. He was a vocal advocate for the Mass Central Rail Trail and the preservation of Arrigo Farm, two projects he was instrumental in getting started that he tragically will not be with us to see completed. Only last week, Dave served as the Land Trust's representative at a meeting of the Zoning Board of Appeals concerning the impact of a pending special permit. Dave's extensive knowledge of the history of the Paine Estate and Chesterbrook woods was also critical to informing the Land Trust's advocacy when it appeared those parcels might be at risk of development.
Dave's generosity of spirit was not limited to the Land Trust alone. Every Thursday, he delivered lunch to the senior citizens in the Pine Street high-rise with Meals on Wheels. He will also be deeply missed by his thespian friends in the Reagle Players and Arlington Friends of the Drama, his work colleagues in the field of software engineering, his singing group, many City employees and public officials, cycling partners, conservationists in neighboring communities, family, and too many friends to count.
We hope that those who knew Dave will take a small measure of comfort in knowing that he died doing what he loved - enjoying nature and the outdoors while living life to the fullest. Details of an anticipated memorial service in Waltham will be shared with the Land Trust membership when they are received from Dave's family.
While Dave may be gone, his work in Waltham will continue to live on. The acres of land he worked so hard to ensure were preserved for everyone are a lasting legacy that will never be forgotten.
To quote Ralph Waldo Emerson, "nature is loved by what is best in us." Dave loved nature and was one of the Land Trust's and Waltham's best. He was a cheerful and calming presence wherever he went. Our entire community will miss him greatly.
May he rest in peace.
Sincerely,
Sonja Wadman                                                           Nadene Stein
Executive Director                                                      President