COVID-19: Let's All Do Our Part to Fight this Virus!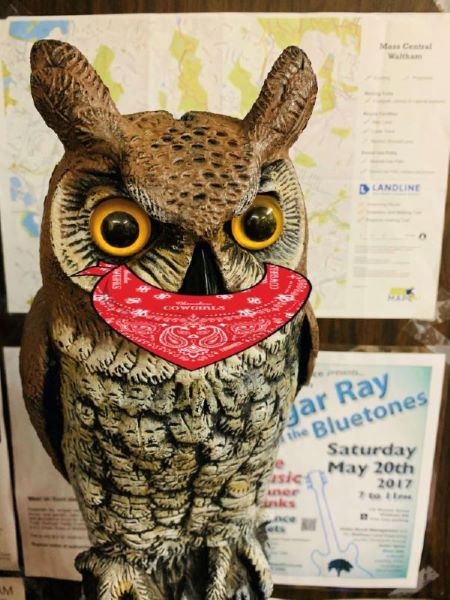 Dear Members and Friends,
As COVID-19 continues to impact our community, the Waltham Land Trust is urging everyone to do their part to help stop the spread of the virus and flatten the curve. The Land Trust is happy to see that Waltham's trails and green space are providing people with important respite during this stressful and challenging time. While guidance from public officials changes quickly day by day, WLT will do its best to keep you updated on which properties are open and the recommendations for using them safely.
To protect our community, all in-person WLT events are cancelled until further notice. This is a huge blow to the organization's fundraising and long-term sustainability at a time when the importance of conservation is clearer now more than ever. Many of the open spaces people have been using for fresh air and healthy outdoor exercise during this pandemic are at risk of future development. WLT cannot protect them without your help.
While we cannot get together in person, this year's Green Space Blues Jam will be held virtually on July 18, 2020. Stay tuned for more details!
We know there are many worthwhile organizations that need your support right now. Please donate if you can.
As of May 25, 2020, most City of Waltham parks and playgrounds are currently OPEN, including Prospect Hill Park. This is Please donate if you can.
" target="_blank">subject to certain restrictions, including wearing masks and following social distancing. Restrooms and other common facilities remain closed. Please plan accordingly and respect these restrictions so that parks and playgrounds can remain open and a safe place for everyone to enjoy.
For the most up to date information from the City, please visit Waltham's COVID-19 page.
Massachusetts state parks and other natural resources managed by the Department of Conservation and Recreation (DCR) remain OPEN and accessible to the public. In Waltham, these include the Charles River Greenway and the Beaver Brook North Reservation. For the most up to date information from DCR, please visit DCR's COVID-19 page. Please note that visitor centers, bathrooms, picnic areas, and other facilities on DCR properties are closed, even if the park or trail is open.
DCR has reopened some beaches for recreation, such as walking and jogging. Stationary activities, like sunbathing, and contact sports/activities remain prohibited. Parking remains restricted at many locations, and restrooms and other facilities remain closed. For the most up to date information from DCR, please visit DCR's COVID-19 page. WLT is asking all our member to do your part and respect these restrictions so that beaches do not have to close again!
Please take appropriate precautions when going outside. The following steps are recommended by the Centers of Disease Control and Prevention (CDC) and the Massachusetts Department of Public Health's (DPH).
Stay home if you are sick or high risk!
Follow Hooty's lead and put a bandana on your beak – the CDC now recommends covering your face with a cloth mask, bandana, or scarf whenever you go out of the house to avoid unknowingly spreading the virus. Please leave the N95 masks for our healthcare workers and first responders.
Stay within solitary or small groups and avoid gatherings of ten or more people. When you see friends or neighbors on the trails please wave from a safe distance.
Practice social distancing of at least six feet between individuals. Six feet is about the length of your average garden rake or height of your household refrigerator. Please be courteous and give people plenty of space when you pass each other on the trails or in the parking lot.
Avoid touching trail kiosks, picnic areas, railings, or other surfaces likely to have been touched by others. WLT's maps are available on your phone or you can print them at home.
Participate in only non-contact recreational activities. Viruses can live on surfaces like balls and frisbees too.
Leave a park or area should large gatherings begin to build.
Avoid touching your face.
Wash your hands for at least 20 seconds with soap and water or use an alcohol-based hand sanitizer as soon as you get home.
Please do not congregate in parking lots or other areas. If possible, use alternating parking spaces and if a lot looks full it is a good indicate the trails are too.
If you wear disposable gloves or masks please dispose of them properly at home and do not leave them on the trails or in parking lots.
WLT wants everyone to be able to enjoy all the physical and mental health benefits of being outdoors while we go through this difficult situation. Please respect park and beach closures, follow public health recommendations, be careful, and stay safe!